Harshvardhan Joshi on his journey to scale the Everest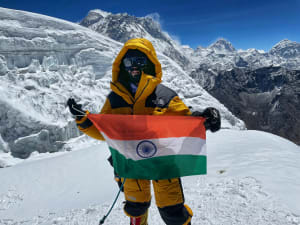 "
Externally I'm getting, I've been getting a lot of fame and attention after climbing the Everest, but all that is temporary and I just don't get carried away with it.
"
25

  Harshvardhan Joshi
Who is Harshvardhan?
This is Part 3 and the final episode of the three series podcast with Harshvardhan Joshi. He scaled the Everest on May 23rd, 2021 and even after his absolutely stellar preparation, there were enough times when he was severely tested both physically and mentally. From the need to take a longer route and cover it in a shorter time, finding a borrowed tent on the way up because his tent was blown away, facing winds at 100kmph and contracting Covid-19 after he had completed the acclimatization drill of going over to Camp 1-2-3 and back to the Everest Base Camp, he was still at the Peak and with amazing display of confidence and conviction. What carried him through this arduous journey were his discipline, discernment, taking one day at a time and never caring about the result. Watch this episode for all of this, for if we learn & improve even a bit, we contribute in raising humanity to a level higher.
almost 2 years ago
Location  
Zoom!
Age  
25