Harshvardhan on the Alignment of Intention & Actions, Sustainability and Mountaineering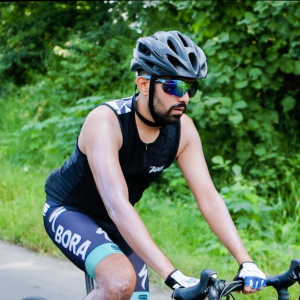 "
I have this realization that I want to keep chasing big goals, but not something which can just be bought off by money. You'll need to put in some more hard work, with which comes a greater journey. So let's say if I want to climb Everest, the expenses will be close to Rs 50 lacs, but it's not that if I have Rs 50 Lacs, I can climb. And with that suffering comes a lot of lessons and fulfillment.
"
25

  Harshvardhan Joshi
Who is Harshvardhan?
One is always in awe of someone who has scaled the Everest and the awe is greater when you see a journey of preparation which comes out of choice amidst other enticing options. And it's not that Harsh has been a man of means. What does it take to do this? The credibility that he has built for himself backed by his arduous preparation has inspired many to come together to contribute towards the expenses of this audacious expedition. Such individuals are trailblazers and that's what Harsh is. He has already been part of 40 expeditions out of which 20+ are ultra-high altitude (excess of 20,000 feet) and from April 1, 2021, he will start his journey to scale the Everest using 100% of the power requirement during the climb from solar. When Harsh talks about how he completed an unofficial solo-triathlon treating it like a long training day, using the lakes near Mumbai and the Ahmedabad-Mumbai Highway in a temperature of 40oC, one can only appreciate the extent he is going to convey a larger message of purpose, passion and sustainability. When I hear him speak about what the mountains teach us and yet how he over thinks about the future, I relate to his calm and confusion. It just goes on to tell that Harsh is just another guy like all of us and like him we also have the possibility to chase something unchaseable. Hear this convo for what the mountains teach us and maybe you also want to accept Harsh's offer to join him till the Everest Base Camp in April 2021. I didn't blink an eye to latch on to that offer. This is an unedited conversation because there are times when unedited conveys more than the edited does. We will follow up on this convo now from EBC.
Recorded  
almost 3 years ago
Location  
Zoom!
Age  
25