Suman, India's PadWoman & Oscar Winner, on MHM, Men and Society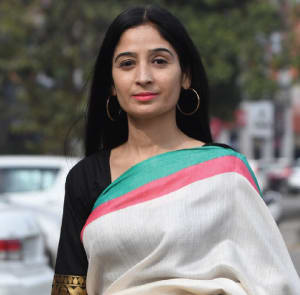 "
After all the difficulties and character assassination, when I decided to call it all off, my husband told me – "If you retreat now, you will never be able to go back"
"
39

  Suman
Who is Suman?
Suman, 39, is known as the PadWoman of India. She is an Oscar winner (2019) for being the driving force behind the documentary "Period. End of Sentence". Growing up in a simple and traditional household, whenever she asked her mother permission to do something beyond her scope, she was told to do it after marriage. Combined with the influence from "Dilwale Dulhaniya Le Jaayenge" she thought she will get a blanket pass after marriage, to do anything she wanted. This notion came crashing down when she found that her new home doesn't even have a kitchen, forget a bathroom. A home with 15 people living in two rooms, one of the rooms housed the home temple and the lady could not go to the other room if she was menstruating. From bearing two kids at 20 years to setting up sanitary pad machines in her home to winning the Oscar and taking Hapur and India to a global stage, it shudders me to think of the will and effort required. This is a shining example of the untapped potential, a human being is blessed with. The only feeling which she could relate to when she got the Oscar was from the film "Roop Ki Rani, Choron Ka Raaja" in which Anil Kapoor and Sridevi are shown receiving an award. Watch/Hear this conversation to taste the lethal brew of unimaginable innocence with an indomitable will. This is a conversation in Hindi and I request each of you who read this, not only to share this with your family and friends, but also share the YouTube link (https://youtu.be/lfcH3cQhork) with your domestic help/s and the larger household eco system you influence and are influenced by. The local language speaking heartland is where our shining gems are. As I end, I would like to share a few matters: - Suman's success is possible because of the rock solid unconditional support and love of her husband. - In some parts of the conversation you would hear some household disturbance, please excuse that due to an exclusive space not being available to Suman. - She addressed me as Sir, that is embarrassing.

Recommendations

over 1 year ago
Location  
Zoom!
Age  
39