Shalini on the journey of "why me" to "why not me"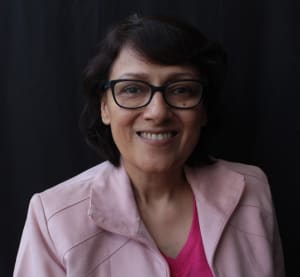 "
I can smile and feel it in me. When someone looks at me smiling, they should say that you are smiling with your heart and showing with your eyes. The moment you can take that step, you know your journey out of depression has started.
"
55

  Shalini Gupta
Who is Shalini?
Shalini Gupta, 55, is a Masters in Economy from the University of Lucknow and a Doctorate in Management from IIM Ahmedabad. She has two daughters, Advika and Gayatri. Gayatri was blessed with neurodiversity called trisomy 21, loosely known as down syndrome. Shalini works extensively in the neurodiverse space, promoting social inclusion and social entrepreneurship. She is one of the founding members of The Art Sanctuary, which is a charitable trust set up in 2019 by trustees from varied fields such as design, music and the corporate world which works towards skill - upgradation of persons with intellectual challenges so that they can be included in mainstream society. Shalini believes that raising a neurodiverse child can be a joyous journey and this conversation in itself is the proof of it. It is very heartening to listen to her talk about the various phases of her life along this journey from being a corporate logic driven person to accepting the challenges bought by Gayatri's condition and taking the less-travelled paths of workshops and pranik healing for her; from being depressive to starting support groups and helping out those in the same boat. Her energy, honesty and positivity are very contagious. I am sure this conversation will leave you in good vibes as it did to me.
Recorded  
almost 2 years ago
Location  
Zoom!
Age  
55