Ramveer "Library Man of India" on Education and Mission Rural Libraries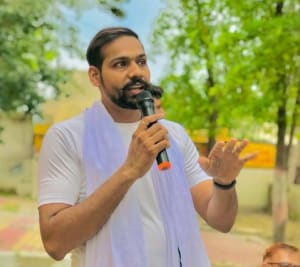 "
"Jo shiksha ki baat kare wo khud me hi ek gram pathshala hai".
"
33

  Ramveer Tanwar
Who is Ramveer?
Ramveer Tanwar, 33, is fondly known as the "Library Man of India". After completing his B.Tech. in mechanical engineering, he took up a job at a multinational company, but the urge of giving back to his people always kept nudging him. Ramveer comes from a small village named Jhundpura in Noida, U.P. and when he saw the poor children of his village swaying away from education, lurking towards drugs and other bad influences, he decided to open a library for them to inculcate the value of education. In 2018, he opened the first library in Jhundpura, and thus started his journey of "Mission Rural Libraries". These libraries are well equipped with books and large seating arrangements for children of all ages and communities from villages who come from poor backgrounds and lack resources and basic amenities for education. Today, he along with his team "Gram Pathshala", have opened libraries in more than 250 villages in U.P , Delhi and Rajasthan that are benefiting thousands of children. Lal Bahar - Inspector in NHRC, Ajay Pal teacher, Praveen Baisala fondly known as "cycle man", Kuldeep - S.I in UP Police, Sonu Baisala - S.I in Delhi Police, Amar Chaudhary - motivational speaker, and around 250 members in in the Gram Pathshala team have made this dream possible. Check out the podcast or watch him on the Small Big Wins YouTube channel to uncover the full story behind his struggle, achievements and gratification. If any of you want to help this cause or know someone who needs help, please connect with the Gram Pathshala team on 9990834838 or their Facebook handle mentioned in the links. P.S. I find myself extremely lucky to meet Ramveer (a humble man with a distinguished personality) and record this podcast in person.
Recorded  
almost 2 years ago
Location  
Zoom!
Age  
33