Pawani on Mental Health, Parents and Gratitude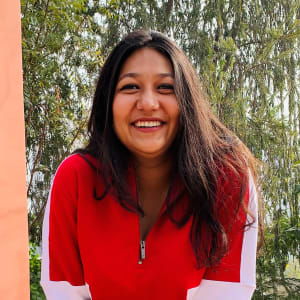 "
I personify my anxiety a lot. It is almost like dealing with another person living in your body. Trust me. And there are times when you see eye to eye with each other, and there are times when you don't want to see eye to eye with each other at all, and you're in a constant conflict with yourself.
"
26

  Pawani Khandelwal
Who is Pawani?
Pawani Khandelwal, 26, is the Founder & CEO of Aatmanirbhar, which is a hugely laudable initiative to build one of the basic foundations of women empowerment – mobility. Pawani and her team have done this in all earnestness; it deserves training more than 9000 women so far to drive a scooty. She lives in Mathura with her parents and brother. Behind the exuberant, cheerful and chirpy Pawani, is another Pawani. This is the Pawani who has faced mental health issues and panic attacks since the age of 17. From her journey so far, she shares insightful tips on how to deal with mental health problems but more importantly, she opens up about the stories of her travails and triumphs in this period. How she dealt with anxiety and panic attacks, the role her parents played and how the small everyday wins became important to amass courage and conviction. There are many questions one doesn't find answers to – and yet how important it is to still live with those questions. If you face this dilemma, watch this episode. Yes, you could watch it, this is the first Small Big Wins episode fully on video too.
over 2 years ago
Location  
Zoom!
Age  
26