Pallavi on teaching Hindi, breaking the language barriers and bringing inclusivity for expats in India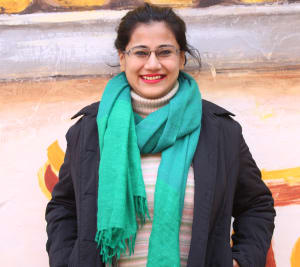 "
I would love to see a performer or an artist who is only performing in their own regional language and yet be a globally acclaimed star. This will help break the stereotype of one language being better than the other.
"
31

  Pallavi Singh
Who is Pallavi?
Pallavi Singh, 31, is a BTech and Masters in Psychology by education but an innovative and passionate Hindi teacher by profession. In an India where the younger generation is fast forgetting their Hindi heritage, Pallavi is determined to keep it alive and to even spread it beyond the borders by teaching Hindi to foreigners. What started as a fun college project quickly escalated to a full-fledged career when Pallavi comprehended a gap between the practical requirement of foreign embassy & consulates members to learn Hindi and the existing methods available. Some of her more famous students are writers such as William Dalrymple and Bollywood actress Jacqueline Fernandes. What I thought would be a very academic conversation, actually turned out to be a fun yet profound one revolving around psychology, culture, curiosity (for the lack of an equivalent word for "jigyasa") and their influence on a language. Join me to unravel some nuances of our beloved Hindi and many more interesting stories and incidents that Pallavi went through with her students, some funny while some insightful. P.S. When I asked her if she could recommend some of her favorite books to our audience, she said "Champak" and "Chandamama" 😊 It immediately took me to my sweet childhood memories and my face lit up with a smile. Does the same happen to you when you hear these names?

Recommendations

over 1 year ago
Location  
Zoom!
Age  
31