Niwas and Shivani on the story of Anantmool – a gender neutral learning center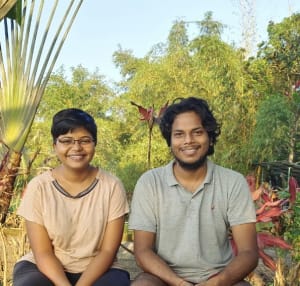 "
After going to boys' school for four years, I was unable to interact with people with other genders. Same thing happened with my sister after she went to girls' school. She was not confident enough to go to a co-ed college for her graduation and it affected her deeply. I decided that these challenges needed to be ruled out.
"
0

  Niwas&Shivani
Who is Niwas&Shivani?
Niwas Kumar comes from a remote village in Bihar and was a part of age-old public school education. Later when his family moved to a bigger town, he went to an all-boys school till he finished high school. The current education system never interested him and he decided to do his graduation from an open university where he could travel, research and explore. During this time he realised that contrary to his belief, he was actually very interested in education and wanted to change the ideology and methodology of the very education system. During his post graduation from Azim Premji University, he found that the effects of gender-bias is far more acute for children experiencing gender dysphoria. They don't find a safe space to study and feel difficult to socialise. Shivani also belongs to a small village in Jharkhand and went to a co-education public school. The patriarchal culture in her village did not allow her to interact with boys in school and she was always subject to gender discrimination in school as well as other public places. When she went to NIT Jamshedpur for engineering, she found it extremely challenging to open up to the fellow students. Niwas and Shivani met during an internship and realised that they share a unique but common dream. Thus was laid the foundation of ANANTMOOL – India's first ever gender neutral learning centre which addresses the issue of gender diversity and inclusion by questioning existing norms and introducing an alternative system where gender no longer exists as a stereotype. Here binary students and those with gender dysphoria are treated as equals. With gender diverse facilitators, gender-free toilets, seating and group activities, Anantmool is also keen on changing their curriculum into a more practical one. This one of a kind learning centre focusses on holistic development of children including physical, social, emotional and intellectual. They both believe that this dream would not have been possible without the help of leaders from Kanthari, an international institute for leadership and entrepreneurial activities. Anantmool is open for donations and the cost to fund the education of one child is just Rs. 500 per month, which, I am very sure most of you will agree, is what we spend at a coffee shop these days. You can find more about this on the Milaap website below. https://milaap.org/fundraisers/support-niwas-kumar# During this small yet powerful conversation with Niwas and Shivani, I learned as well as unlearned perspectives and I am looking forward to join them at Anantmool for a volunteering session in the coming days. Join me in this endeavour.
over 1 year ago
Location  
Zoom!
Age  
0