Meet Richa & Vaibhav on the making of "Maker's Asylum"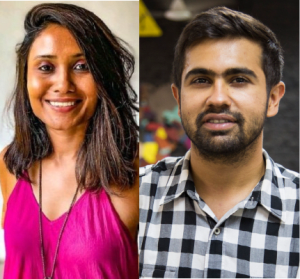 "
Design thinking is when you end up learning from everything, you end up learning from the bottle that's sitting next to you, or you end up learning from the chair or you end up learning from the tree or you end up learning for the person around you.
"
8

  Richa+Vaibhav
Who is Richa+Vaibhav?
Vaibhav started on the journey of creating Maker's Asylum somewhere in 2013-14 and Richa joined him later in this journey. Maker's Asylum is India's first creative community space housing various co- located labs to facilitate prototyping of interdisciplinary ideas to foster innovation, through hands-on learning. They say this is a community of unlike minded, thinkers, artists, and engineers. For example, at the start of the pandemic, Maker's Asylum turned into a PPE factory, making a million shields across India in 49 days calling it the M 19 project.
almost 3 years ago
Location  
Zoom!
Age  
8